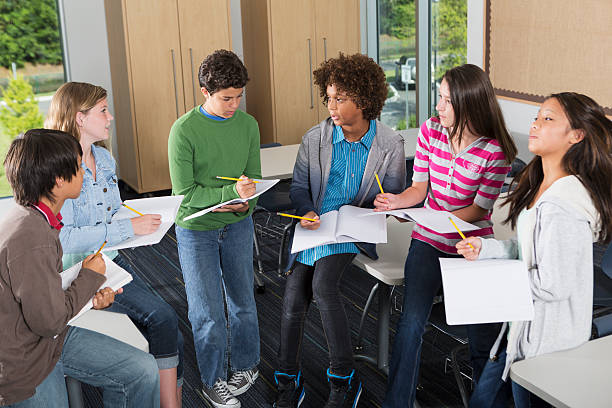 This school year has been one of simplification for me. I've really been trying to embrace doing more with less. Can I reuse this mentor text? Are there ways to better scaffold this concept? I'm constantly having to evaluate my lesson plans. Trying to find the tenuous balance between student engagement, skills practice, and bridging gaps has been difficult.
You know what? That's ok. I tell my students all the time that growth happens when we are pushed outside of our comfort zones. So this year, my teaching practice is growing and changing. Reading this post definitely encouraged me to be reflective about my goals and practice.
Here was my issue:
I'd give my students a speaking prompt in response to something we'd read, journaled, etc. Sure, they'd chat about non-academic topics with their friends, but when it came to something related to class- crickets. My simple side-bar turn and talk activities were falling flat.
Logically, I know this often comes down to students lacking confidence in their own ability to discuss the topic well. But I also know how necessary it is for them to break through that.
As teachers of writing, we know that if our kids can talk about something, they can write about it. I repeat this ad nauseam for my students. Making space in our classrooms for our students to discuss ideas is imperative to their growth as writers, but what do we do when they won't?
Here was my solution:
This, my friends, is where we employ structured speaking opportunities in our lessons. In true teacher fashion, I went digging through archives of activities to see what popped out. I like to use an activity called Coffee Talk. Why I forget to use it from year to year? I'll never know. It was something used in a professional development I attended ages ago and genuinely enjoyed because I, too, am often one to avoid jumping into a conversation if I feel a little unsure about how my ideas might be received.
In the way a Socratic Seminar is like an essay, Coffee Talk is kind of like pre-writing. It embraces unfiltered, messy thoughts and protects the speaking time of every person in the group while still providing structure to help move the conversation along.
Coffee Talk is a discussion in three rounds, designed for small groups of 3-6, and is easily adjusted to your purpose. It goes like this:
Round 1: 90 seconds per person is set aside to discuss the topic, text, etc. Whatever is in their brain about it is fine. Stream of consciousness-type thoughts abound. They may repeat something they heard- totally fine. This is NOT an open discussion.
Round 2: 60 seconds per person is set aside to continue their previous train of thought, expand on something they heard, and so on. This is STILL not an open discussion. Students should be more clearly developing their ideas as this round progresses.
Round 3: 5 minutes is set aside for the entire group to discuss. This is the moment they've all been waiting for- NOW it's an open discussion. Encourage your kids to ask questions, respond to one another, and dig deeper into the topic.
The fully detailed instructions I use with students can be found here.
The beauty of this protocol is that every person is guaranteed a chance to speak, it's easy to customize, and the entire class participates.
What are some of your favorite ways to foster structured discussions in your classroom?
Samantha is a wife, mom to three tiny humans, high school English teacher, perpetual student, Texas transplant, and lover of beautiful stories. She spends her days seeking levity in the chaos, sharing her passion for writing and storytelling with students, and searching for her constantly misplaced cup of reheated coffee. You can follow Samantha on Twitter @SimplySivils and on her blog http://simplySivils.wordpress.com/.